A GeoPoll study on AFCON 2019 Interest, Awareness, viewership, Fan Favorite Teams, Betting, & more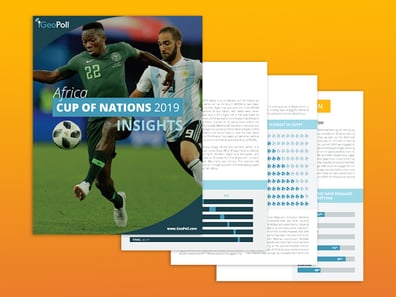 AFCON is an important event throughout Africa not only for the teams participating but also for their fan bases, the TV stations who will be airing the matches, and the advertising agencies and brands who have invested significant time and money to reach a large, engaged audience of consumers. While excitement for the tournament is building, there is little data around expected viewership of the matches and participation in related activities such as purchasing merchandise and placing bets on matches.
As a leading full-service research provider in Africa who regularly provides insights for top brands, media outlets, and agencies, in June 2019 GeoPoll embarked on a study to gather information on planned viewing habits, betting activities, and brand awareness surrounding the tournament. To gather this data, GeoPoll ran a one-time survey on AFCON to over 2,000 respondents in Kenya, Uganda, Nigeria, Egypt, Ivory Coast, and the DRC. We sought to understand the following:
Awareness of the AFCON 2019 tournament prior to its start
Levels of interest in football and AFCON
Popular teams and expected winners
How people plan to watch and engage with AFCON
Involvement in sports betting and AFCON-specific betting
This free, 20-page report examines the above topics and provides insights by country, age, and gender in order to inform interested parties with valuable insights on AFCON and its viewers as the tournament begins.
Download this report for free today by filling out the form on this page, or contact us here to learn how to conduct studies of your own with GeoPoll.